Info about second seminar at RUC
The second seminar of the network took place at Roskilde University on November 23-24 2011.
Papers from the seminar here
Optional PhD seminar (pre-seminar) November 22.  Program here.
Guido Möllering's paper in its final version see here.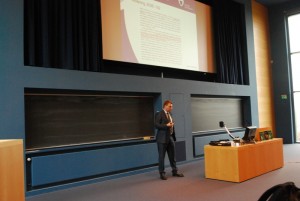 Professor Guido Möllering, Jacobs University, Bremen, presenting his keynote: "Process views on trusting". Guido Möllering's slides.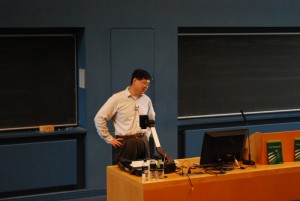 Professor Peter Ping Li of Copenhagen Business School, Editor-in-Chief of Journal of Trust Research, presenting his reflections on Trust research and the new Journal on Trust Research.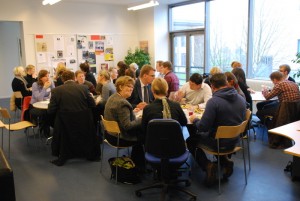 Some of the seminar participants during lunch.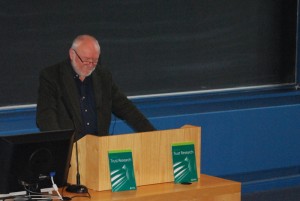 Rector of Roskilde University, Ib Poulsen, addressing the seminar participants in his welcome note.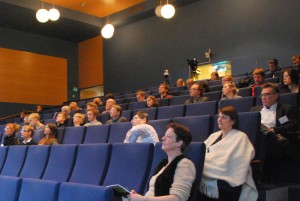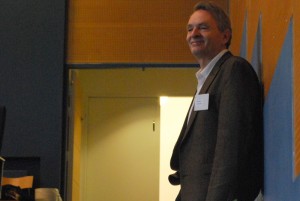 Søren listening to Guido.
Accommodation:
Hotel rooms were available at the following hotels:
Hotel Prindsen
(price pr. night 925 DKK including breakfast) Algade 13 DK-4000 Roskilde Denmark Phone +45 463 091 00 E-mail
info@prindsen.dk
Scandic Roskilde
(price pr. night 740 DKK including breakfast) Søndre Ringvej 33 DK-4000 Roskilde Denmark Phone: +45 46 32 46 32 E-mail:
roskilde@scandichotels.com
Danhostel Roskilde
(price pr. night  pr. 510 DKK including breakfast) Vindeboder 7 DK-4000 Roskilde
Denmark Phone: +45 4635 2184 E-mail:
roskilde@danhostel.dk
Reimbursement scheme:
For attendees funded by NordForsk: Please keep travelling costs and accommodation costs at a minimum. We have max 500 € for travelling and max 290 € for hotel accommodation. Try to be cheap. Book flight in due time. Thanks!